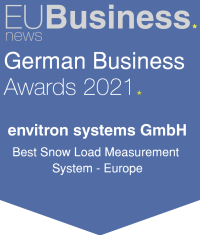 Ausgezeichnet
mit der IENA
Goldmedaille
für das beste
Produkt
Innovation
2013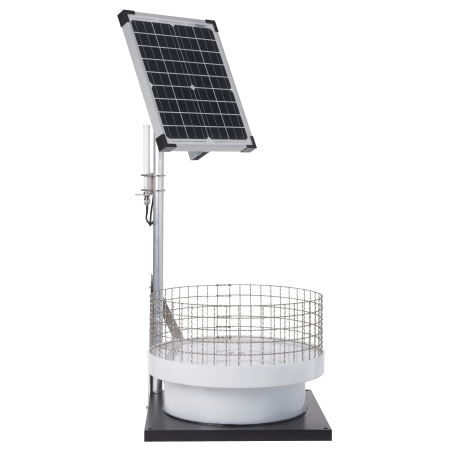 snowcontrol solar-based measuring system
for monitoring snow-loads on flat roofs
Mount, launch and ready to go! - smart and cost-efficient
The snowcontrol system is a smart solution for monitoring roof-loads 24/7 caused by snow and ice on flat roofs. In case of hazardous overloads auto-alerts are triggered. Our data portal allows for accessing your current data via any web-enabled device. Our snowcontrol system is mounted immediately onto the roof and operates fully energy-autonomous. There is no need for any intervention with existing roof structures, cables or wires.
THE SNOWCONTROL-SYSTEM IS FOR RENT OR TO BUY

Convincing
Benefits
Permanent 24/7 monitoring of the systems by us
Quick and easy installation and removal
No intervention in the roof structure
Energy self-sufficient, can be used immediately, no need to lay cables
Choice of solar or mains supply
Integrated emergency power supply for up to 2,400 h
Automatic notification in the event of an alarm via LTE 4G/5G module
Adjustable warning limits
Automatic 24/7 fault monitoring of the system
No internet connection or connection to a server required
Low dead weight
Roof access no longer necessary
Connection to the building technology possible
Advantage
Monitoring of all weather-related hazardous situations
Thanks to our comprehensive sensor technology, all hazardous situations that usually occur on flat roofs can be permanently monitored. Whether it's snow, backwater and splash water or blocked overflows, we have a solution for everything.
With our camera system, you can see what's going on on your roof 24/7. You don't have to carry out an extra roof inspection just to check out a warning.
Advantage
Integrated LTE 4G/5G
modem
The envitron products have an LTE 4G/5G modem. They are therefore equipped with the latest technology for the coming years. No server or internet connection is required to send warning messages via SMS.
Poor internet connection or even complete failure of the internet may occur, especially in remote locations and under extreme weather conditions. Solutions that use a central server to send the warning messages have problems in such cases.
Advantage
Solar or mains power
supply
Our system has been designed for solar operation and power consumption has been minimised. The solar panel is therefore only needed to compensate for the loss that occurs during the night. Thanks to the integrated emergency power battery, the buffer time is at least 2,400 hours in the event of prolonged absolute darkness.
If desired or needed, our snow-scale may also be connected to 230V, as for one of our customers in Finland it was indispensable. There, a solar-based supply is not sufficient during the long and dark winter months. But since our system is equipped with a back-up battery, it remains fully functional even in case of a complete power supply failure.
Advantage
Permanent monitoring
of the function
The envitron systems monitor themselves. All errors are automatically reported to us. We ensure that the systems are ready for use 24/7.
Advantage
Modularity


Our system has a modular structure. This means that all sensors can be combined with each other as required. Up to 14 different sensors can be connected to one base station. An already installed system can be easily expanded at any time.
Advantage
Lightning protection


Our system does not use any conductive connections to any building facilities. Usually our customers flat roofs already have lightning protections like catchment grills and/or lightning rods, so that it is sufficient to mount our system near these rods or - if existent - within the grills. Snow-scales that have to be connected to 230V supplies need to be integrated into the roof's lightning protection system according to its specific demands, causing higher effort (to be carried out by professional electricians). Therefore our system can be mounted to existing lightning protection facilities by means of a lightning protection clamp.
Technical Data
Measuring unit: kg/m²
Measuring accuracy: +/- 2 kg
Max. Measuring range: up to 500 kg/m²
Integrated 4G/5G LTE modem
SMS and email notification when adjustable limit values are exceeded
Dimensions: 50x50cm, height 120 cm
Weight: approx. 30 kg, absolutely stable
Connections: No connections necessary
Potential-free contacts for connection to BMS
Fastening: No fastening necessary
Power supply: 20 W solar panel
Integrated 24Ah emergency power AGM accumulator, up to 2,400h buffer time
No lithium accumulator, therefore no fire hazard on the roof