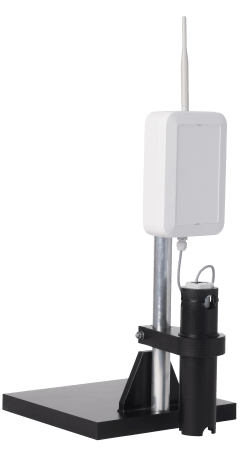 snowcontrol impound water sensor for flat roofs
Our impound water sensor monitors and detects potential hazardous situations caused by backwater. On flat roofs water often impounds on large scales after heavy rainfall or snowmelt, not draining off fast enough. Also drainage deficiencies or blocked drains may lead to backwater. A slack water accumulation of 5 cm only already equals a load weight of about 50kg/m². For example, a thaw period is believed to have caused the roof collapse of the school at the Gerhart-Hauptmann-Ring in Munich. A huge amount of snow water had accumulated on the flat roof.
We will be happy to advise you personally 089 / 716 751 06
Monitoring backwater accumulation
Due to drainage deficiencies or blocked drains water often does not flow off properly, leading to large-scale slack water accumulations, which should be detected early on in order to prevent damage or even a collapse of the roof structure caused by roof overloads. Even slack water accumulations of 7 cm only may represent a considerable danger for the safety of roof structures. Additional snowfall during wintertime then quickly hits the roof's maximum load capacity. Our impond water sensor permanently monitors the backwater level, triggering alarm in case of emergency.
Monitoring drainages
On green roofs hidden damages may occur due to exceptional loads and incidents like, for example, extreme soiling of roof surfaces, sludge formation caused by foliage and industrial dust or blocked roof gutters. Permanent monitoring prevents further damage. The drainage regulator can be controlled and opened or closed as required.
Technical data
Wireless standard: ZigBee 2,4 GHz
Wireless range: >100m
Temperature range: -40 bis +70°C
Accuracy: +/-5mm
Measuring range: min. 10 mm, max. measuring height depends on mounting level
Current consumption: < 1mA
Protection class: IP68
Mounting: Can be mounted immediately to our base system or seperately to any other location
Power supply: AGM battery (operates over 3 years)
Alternatively delivered with solar panel